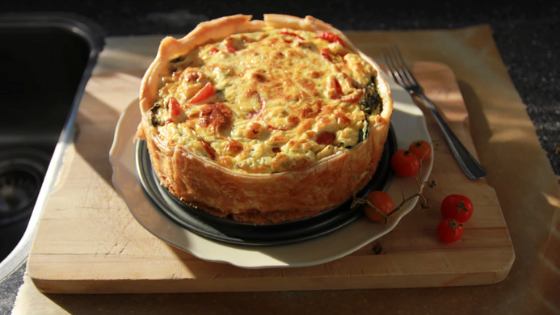 Here is an excellent go-to spring breakfast idea that will be sure to start your day off right!
Easy Vegetarian Quiche
Quiche is loaded with fresh veggies and includes eggs, which are always a hit around this time of year! Here's how to make the perfect spring quiche for your upcoming brunch with friends, a holiday get-together, or a day at home.
Ingredients
1 tbsp. Olive oil
½ Sliced red pepper
½ lb. Sliced mushrooms
7-10 Spears of asparagus, sliced into 2" pieces
1 Cup packed fresh spinach*
1 Premade pie crust
1 ½ Cups whole milk
4-5 Eggs, depending on size
1/8 tsp. nutmeg
¼ tsp. each of salt and pepper
½ Cup sharp cheddar cheese, grated
Instructions
Preheat your oven to 375°.
Saute the olive oil, peppers, and mushrooms in a pan on medium-high heat for 2 minutes.
Add in the asparagus, and cook for 4-6 more minutes.
Add the spinach and cook until wilted. Set veggie mixture aside.
Put the pie crust in a pie pan, add the veggies in a layer on the bottom, and set it aside.
Whisk the eggs, nutmeg, salt, and pepper together.
Pour the egg mixture over the veggies.
Sprinkle the cheese over the eggs and veggies.
Bake your quiche for 35-40 minutes. The top should appear golden brown before cooling 5 minutes and serving.
* If the veggies listed here aren't your favorites, consider using other alternatives that you prefer. Some ideas: Zucchini, yellow squash, green or white onions, yellow or orange bell peppers, carrots, etc.
Our Stamford apartments all have comfortable, well-outfitted kitchens to make your spring cooking a breeze. Interested in relocating to Stamford or looking for a new apartment in the area? We're here to help! Contact our office at your convenience to find out what floor plans are still available.